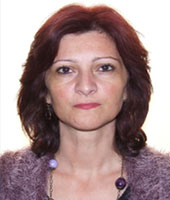 Gradul didactic/Funcția de cercetare: Conferențiar dr.
Departamentul de Lingvistică Teoretică și Aplicată
Facultatea de Litere
Contact:
B-dul Eroilor nr. 25, Brașov, Romania
Corp T, sala TP16
Tel./Fax: +40 268 474059
E-mail: mona.arhire@unitbv.ro
Descarcă CV
Interese
de
cercetare:
traductologie,
lingvistica corpusului,
comunicare interculturală
Publicații
"Cohesive Devices in Translator Training: A Study Based on a Romanian Translational Learner Corpus", în "Meta: Translator's Journal", 62:1, 2017, ISSN 1492-1421, p. 155-177, ISI Arts and Humanities Citation Index, Ebsco, IBZ, IBR, ERIH PLUS, Ulrich's, Scopus.
Structural Equivalence in Translation. An Introduction, Vol. I și II, Editura Casa Cărții de Știință Cluj-Napoca, 181 pagini, 2015, 2016, ISBN 978-606-17-0859-8.
Corpus-based Translation for Research, Practice and Training, Editura Institutul European Iași, 253 pag., 2014, ISBN 978-606-24-0037-8.
"Translation as a Form of Intercultural Workplace Communication", co-autor, în Măda S., Săftoiu R. (eds.) Professional Communication across Languages and Cultures, Amsterdam: John Benjamins Publishing Company, 2012, ISBN 978 90 272 1034 0, E-Book 978 90 272 7311 6, p. 239-264.
"On the Interdisciplinary Nature of Corpus-Based Translation Studies", in Teodora Popescu, Rodica Pioariu and Crina Herteg (eds.) Cross-Disciplinary Approaches to the English Language: Theory and Practice, pp. 5-18, Great Britain: Cambridge Scholars Publishing, 2011, ISBN (10): 1-4438-3389-4, ISBN (13): 978-1-4438-3389-9.